In their 2001 book, Customer Winback: How to Recapture Lost Customers and Keep Them Loyal, Jill Griffin and Michael Lowenstein reported eye-opening results from a survey they'd conducted among 350 randomly-selected companies in a cross section of industries regarding their customer loss and win-back policies.
Nearly 50 percent of marketing managers and 30 percent of sales managers did not know what percentage of customers they lost each year (churn rate)
Those sales managers and marketing managers who claimed they did know the company's churn rate grossly underestimated it, pegging the figure at 7 to 8 percent instead of the average 20%
These figures are 20 years old, so let's take a look at some average customer churn rates by industry as reported by WordStream in January 2019:
American credit card companies –20%
European cellular carriers –20-38%
Software-as-a-Service (SaaS) companies –5-7%
Retail banks –20-25%
A large annual churn rate for one industry might be a big improvement for another, but 20 percent is a safe number to use across the board. What if a business has an annual churn of 20 percent and makes no effort to win back those customers? Here's how many new customers from any given year remain after: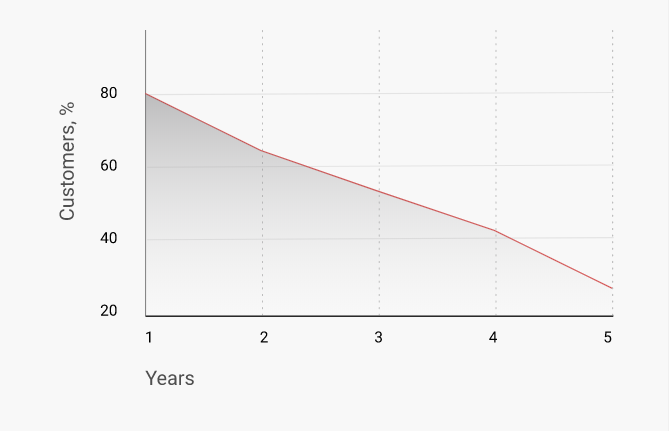 After 5 years of losing 20 % of all new customers each year, a company is left with less than a third of those customers.
The good news is that winning back lost customers can be very profitable, especially when Artificial Intelligence is used to identify those lost customers who are most likely to reactivate.